Check out ACAB Collective's Flickr Photostream
Find it at: http://www.flickr.com/photos/89506256@N06/
Collaboration in Visual Arts featuring ACAB... →
Check out 'Collaboration in the visual arts' by Kent Wilson featuring interviews with Soda_Jerk, Ash Keating, Ms&Mr, The Safari Team, The Seam and ACAB Collective! 
ACAB Collective have been announced as the winner...
19 tags
30 tags
9 tags
12 tags
9 tags
6 tags
5 tags
BLINDSIDE Summer Studio
Rather then leave the gallery empty over the holiday season this year, Ben Johnson & Nickk Hertzog and Agnes So & Janson Chau were given the keys to BLINDSIDE and, starting from scratch, asked to have an exhibition ready in four and a half weeks, a duration far exceeding the usual two-day installation time. From this Wednesday the public are invited to view the results that both...
8 tags
All documentation is under general suspicion of inexorably adulterating life. For each act of documentation and archiving presupposed a certain choice of things and circumstances. Yet, such a selection is determined by criteria and values which are always questionable, and necessarily remain so. Furthermore, the process of documenting something always opens up a disparity between the document...
10 tags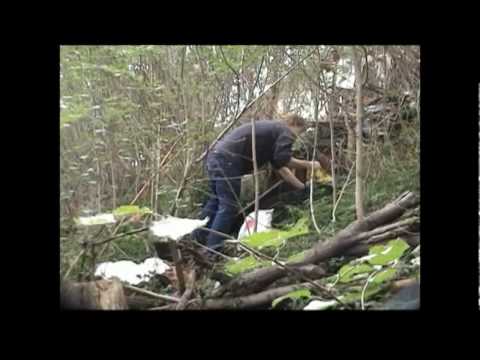 8 tags
6 tags
Modern Shaman: Celebrity vs. Eccentric
For him who's vacant eyes still dwell on the land of the living. He looked too far, he journeyed too deep. His medicines brought visions both fantastic  and terrifying. His gaze is caught between the world around him and the world beyond it. These people were once shaman. Before artists, before priests, there was only the simple eccentric. A single minded drive towards something we can't see, he...
"The pine trees are planted in rows making the journey strangely repetitive. We..."
6 tags
Watch
7 tags
4 tags
3 tags
How is it possible for vision to 'unveil' unobstructed phenomena precisely by 'veiling' them(through the flesh), i.e. Phenomena are revealed through a translucent but irremovable screen (the body). Sight is not purely a 'camera organ' that passively offers up images to the seer, rather, the visible is a chance encounter formed of a interconnected lattice of latencies and participations within and...
3 tags
Watch
6 tags
9 tags
Watch
close encounters of the regular kind © a.c.a.b
7 tags
7 tags
6 tags
"…The scene becomes improbable, until you have the impression, for the briefest of moments, that you are in a strange town, or better still, until you can no longer understand what is happening or what is not happening, until the whole place becomes strange and you no longer even know that this is what is called a town, a street, buildings, or pavements…"[1] [1] Georges Perec, species...
6 tags
6 tags
Watch
KICKSPLODE! © a.c.a.b
6 tags
6 tags
6 tags
"Space is a doubt: I have constantly to mark it, to designate it. It's never mine, never given to me; I have to conquer it." - Georges Perec[1] The concept of space is a measure of otherness by which we can define a cohesive self[2] We are instructed explicitly as children that borders, boundaries and prescribed designations control where we can and cannot go and the 'correct' way to relate...
6 tags
Watch
Ambi/TV © a.c.a.b
6 tags
9 tags
6 tags
6 tags
6 tags